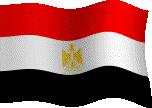 Egitto, la madre delle Nazioni/Egypt, the mother of the Nations
Ibn Khaldoun
EGITTO. Affari Esteri 1967-1986
Edistudio, Pisa, 2001, pp. 311; ISBN 88-7036-803-3
(Egypt. Foreign Affairs 1967-1986, in Italian language)

Presentazione di/Presentation by
Vittorio Antonio Salvadorini
Professore ordinario di Storia ed istituzioni dei Paesi afro-asiatici nell'Università degli Studî di Pisa
Full Professor of History and Institutions of Afro-Asian Countries in the University of Pisa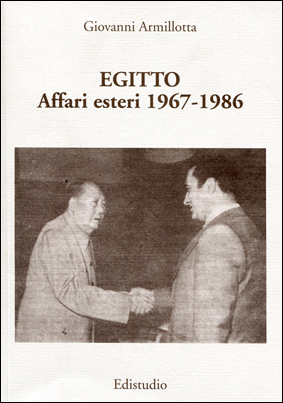 Copertina: una delle rare ultime foto del presidente Mao Zedong – Pechino, 20 aprile 1976: con Muhammad Hosni Mubarak, l'allora vicepresidente della Repubblica Araba d'Egitto
Cover: one of exceptional last photos of President Mao Zedong – Beijing, April 20th, 1976: with Muhammad Hosni Mubarak, the then Vicepresident of Arab Republic of Egypt
Le relazioni internazionali e gli affari esteri dell'Egitto con 156 Stati e 1221 organizzazioni internazionali dalla guerra dei sei giorni al 1986; i trattati bi- e multilaterali sottoscritti; i rapporti politici, dall'ONU al Comitato Internazionale Olimpico; dall'allestimento di conferenze di vertice, all'organizzazione di manifestazioni sportive; 800 protagonisti della politica mondiale e non; le mappe delle operazioni di guerra e delle forze per il mantenimento della pace; brani tratti da autori italiani e stranieri, nonché resoconti bellici; la nomenclatura della diplomazia del Cairo. Un'opera di consultazione che spazia su vent'anni e come tale concatena tutti gli argomenti a quelli che li hanno preceduti e determinati, in modo che la lettura dei fatti puntualizzi e informi anche su quanto è accaduto negli anni avanti, ed in alcuni casi in quelli successivi al 1986.
The international relations and foreign affairs of Egypt with 156 States e 1221 international organizations since six-day war to 1986; the drawn up bi- and multilateral treaties; the political relations, from United Nations Organization to International Olympic Committee; from summit meetings preparation to sports events organization; 800 protagonists of world policy and other matters; the maps of war operations and of the peacekeeping forces; extracts by Italian and foreign scholars and also wartime reports; the nomenclature of Cairo diplomacy. A reference book ranging over twenty years and linking together all arguments to those preceding and determining, so that the reading of events it clear and inform also about before 1967 years and in some cases about the after 1986 years.
*
Presentazione del libro:
Villa Bottini, Via Elisa, Lucca
25 novembre 2002, h. 17:30
Sono intervenuti:
Prof. Alessandro Bedini, saggista e giornalista
Prof. Franco Cardini, ordinario di Storia medievale all'Università di Firenze
e l'autore
RECENSIONI
"Metodo", N. 18 (Giugno 2002)
Paolo Mossetti
"L'Osservatore Romano", Terza Pagina (9 maggio 2003)
Antonio Chilà
"Rivista di Studi Politici Internazionali", LXX (2003), N. 3, Luglio-Settembre
Giuliano Caroli
"Affari Esteri ", XXXV (2003), N. 140, Ottobre-Autunno
Fausto Borrelli
Thanks a lot to His Excellency Hon. Prof. Dr. Julio A. Jeldres, State Minister of Cambodia, for his French tranlations of my book to His Majesty Norodom Sihanouk, King of Cambodia.
Thanks a lot to many Professors of following universities for their congratulations to my book: Bologna, Cagliari, Citta del Messico (UNAM and ENAH), Firenze, Lecce, Milano (Cattolica del Sacro Cuore), Napoli (Federico II), Padova, Palermo, Parma, Pavia, Perugia, Pisa (degli Studi" and SSSUP S. Anna) , Roma (La Sapienza and San Pio V), Siena, Torino, Trieste, Urbino
Thanks a lot to Dr. Luciano Venturi, Executive Officer of ALISEI (Non Governmental Organisation) for his encouragement to a new edition
UNA COPIA DEL LIBRO È DEL PREZZO DI EURO 10,00 (COMPRENSIVE DI SPESE DI SPEDIZIONE IN ITALIA)
Chi desideri acquistarlo scriva a ga57@yahoo.com
Visitatori dal 6 luglio 2001 al 30 maggio 2013:
| | | | |
| --- | --- | --- | --- |
| 1. | Italia | 1.106 | 50,0 % |
| 2. | Stati Uniti | 273 | 12,3 % |
| 3. | Germania | 75 | 3,4 % |
| 4. | Gran Bretagna | 68 | 3,1 % |
| 5. | Canada | 44 | 2,0 % |
| 6. | Brasile | 33 | 1,5 % |
| 7. | Svizzera | 33 | 1,5 % |
| 8. | Polonia | 32 | 1,4 % |
| 9. | Svezia | 31 | 1,4 % |
| 10. | Russia | 24 | 1,1 % |
| | I rimanenti | 493 | 22.3 % |
| | Totale | 2.212 | 100,0 % |

Visitatori dal 30 maggio 2013